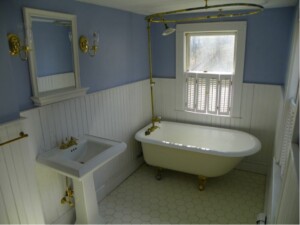 Get the best Hanover bathroom remodel with us!
You shouldn't have to check in to a super swanky hotel to get a luxurious spa-like atmosphere in your bathroom. You can have that spa-like atmosphere everyday in your very own home with a bathroom remodel in Hanover project. Perhaps you think it is too expensive, or that your space is too small. There are many good reasons to remodel a bathroom, whether you are trying to increase the value of your home, you need more space, or you are finally ready to replace those outdated 1970's fixtures! The experts at Renovisions, Inc. can make your bathroom remodel in Hanover a reality.
Let us help you make your bathroom remodel in Hanover a tranquil place to retreat to after a long hard day. If space and organization are important, or whether you need better lighting Renovisions can help! Reed and Tricia Thomas, owners of Renovisions, provides you with a "one-stop shop" for your bathroom remodel in Hanover.
For all bathroom remodel in Hanover projects we use only the best products and we maintain a strong relationship with only first rate manufacturers. Browse our site or give us a call today at 781-826-0559 we can begin to take your bathroom remodeling in Hanover project from the planning stage to the finished product. You can rest assured that your bathroom remodeling in Hanover project will run smoothly from start to finish. Our focus is on our customers. We aren't satisfied until you are.
Tags:Hanover bathroom remodel